Inside: We put together a great list of funny podcasts for teens that can make even the surliest adolescent crack a smile.
Sometimes our teens can be pretty moody and sullen. There are days we wonder if we'll ever see them smile again.
But believe it or not, teens today actually LOVE humor. They are constantly sharing funny memes on social media and talking about the latest YouTube videos getting all the laughs. So, why not also introduce them to a few funny podcasts for teens.
As a parent of teenagers, you might also like 33 of the Most Hilarious, Relatable Quotes About Parenting Teenagers.
Podcasts are a great and entertaining way for teens to learn about the world around them. Unlike scrolling, which is a more passive way of getting information, podcasts help your teen's brain stay active. There are also other benefits to podcasts. Your teen might become a better listener. It could help their attention span. They might learn something new.
Bonus, you can recommend your teen turn on their favorite one while doing some chores or (gasp!) even cleaning their room!
Additionally, podcasts can be a great way to get your teen to use technology in a positive way. They can help get your teen out of a funk, alleviate some pent-up stress and anxiety, or even something you can do together to help you connect with your teen.
There are tons of funny podcasts for teens that they will enjoy (and possibly you too!),
The Best Funny Podcasts for Teens
Here are some of the funniest podcasts for teens!
Teen Girl Talk
As the name suggests, this is a great podcast for teenage girls. And in all reality, all the topics are open to being discussed. Sassy and funny sisters are the ones that run this podcast and talk about anything and everything that they want. From reality shows to teenage topics, there's certain to be laughs and giggles all along the way.
Tune in to Teen Girl Talk on Apple.
Part-time Genius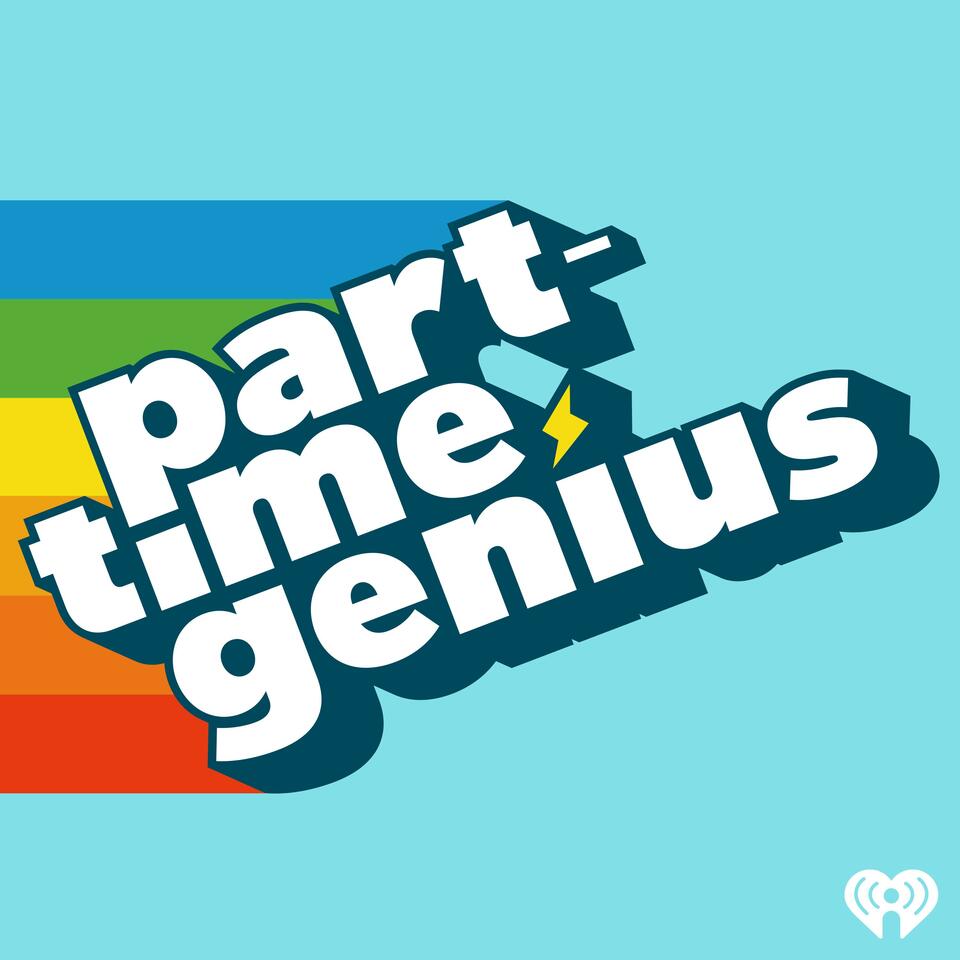 For teens who love asking absurd questions, this podcast may just have the answers. Hosts Will and Mango investigate topics like weird inventions, how rats keep outsmarting humans, and reasons to love raccoons.
Find Part-Time Genius on iHeart.
Dear Hank & John
Hosts and brothers John and Hank Green (authors and YouTubers) offer both humorous and heartfelt advice about life's big and small questions. They bring their personal passions to each episode by sharing the week's news from wherever it's happening, as well as addressing some of life's biggest and smallest questions.
Listen on Apple Podcasts and Spotify
Views With David Dobrik and Jason Nash
What does David Dobrik, a 24-year-old YouTube millionaire, and Jason Nash, a 40-something single dad have in common? They are both are huge vloggers, and their podcast delves into what it's like living life in the public eye on YouTube–the good, the bad, and the hilarious.
You can find them on Apple.
Wait Wait…Don't Tell Me

This might be our favorite. This podcast is not only funny, but it's relevant to the happenings of the daily world, too. Wait Wait… Don't Tell Me! is NPR's weekly hour-long quiz program. Each week on the radio you can test your knowledge against some of the best and brightest in the news and entertainment world while figuring out what's real news and what's made up. On the Web, you can play along too.
You can find Wait Wait….Don't Tell Me here.
What's Good Games
Do you have a gamer? If the answer is yes, then hook them up with the three women hosting What's Good Games. Something pretty cool happens when three funny friends with more than 30 years of gaming experience get together. It is the source for video game news, analysis, commentary, and funny stuff for the nerd-inclined and active gamer.
You can find multiple ways to listen to What's Good Games here.
Adult-ish
Adult ISH is an award-winning culture, storytelling, and advice podcast, co-hosted by twentysomethings Nyge Turner (Oakland) and Merk Nguyen (LA). The show is produced by YR Media, a media company run by young people who are interested in careers in journalism and media — ie, it's made by teens and young adults. Dive into a weekly mix of thoughtful conversations, immersive personal stories, and practical advice from charismatic special guests. From mental health to hip-hop to social justice, Merk and Nyge tackle each and every adulting subject with humor and heart.
Listen to Adult-ish on Apple, Spotify, Google, or Stitcher.
This American Life
This is an uber popular podcast for adults but totally appropriate for teens too. It's hilarious, moving, and highly entertaining. Radio star Ira Glass has a way of turning even the most seemingly mundane subjects (like patent law and garbage) into fascinating stories. Listen together on your way to school, then discuss.
From the show's website:
Mostly we do journalism, but an entertaining kind of journalism that's built around plot. In other words, stories! Our favorite sorts of stories have compelling people at the center of them, funny moments, big feelings, surprising plot twists, and interesting ideas. Like little movies for radio.
Tune into This American Life here.
The Big Fib (formerly Pants on Fire)
Great for tweens, The Big Fib is a silly game show where a tween gets to interview two grown-ups, one who's an expert on a topic and one's who's lying. Hosts Deborah and L.I.S.A. (a sound effects "robot") guide the kid contestant through the interviews with some goofy jokes and question suggestions, but it's the kids that make this show worth checking out. This is a great listen if you have a wide range of ages in your car. Even the grumpiest big kid will snort a few times.
Who Would Win

Two nerds enter, but only one nerd wins! A geek and comedy podcast that debates battles between superheroes and villains from the worlds of comics, sci-fi, & Fantasy because who hasn't wondered who would come out on top if Luke Skywalker battled Spiderman? (Duh, The Force always comes out on top!) One of our favorite episodes, however, was when they discussed who would win Sesame Street vs. The Muppets. We were just rolling!
Each week there is a different set of combatants and new guest judge, usually coming from somewhere in the comic book community. The debate format is structured according to a set of official rules that make the show even funnier.
Tips for Listening to Podcasts with Your Teens
Be cool.
OK, maybe you can't be cool in front of your teenager, but not everything has to be a teaching moment. Enjoy the content, ask questions, laugh when appropriate, and most importantly, let them pick the podcast that most interests them.
And if your teen will allow it, tune right in with them. The topics that are discussed can be a great way to bond over something together as a family.
Do you have any funny podcasts for teens to recommend?
The Best Ted Talks for Teens and Teen To Help Them Learn To Adult
5 Amazing Organizational Apps for Teens
The Best TV Series Families with Teens and Tweens Can Enjoy Together